Disko Wolves
Learn more about this punk rock n' roll band at the Official Disko Wolves Site and at the Disko Wolves Facebook Page.
Howl at the moon. Dance to the beat. Take your clothes off, baby, fuck in the street.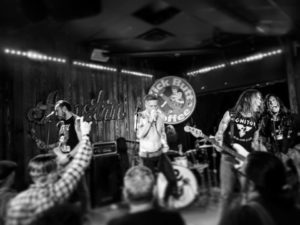 This is how the Austin, Texas-based punk-rock-n-roll band
Disko Wolves
introduces themselves through your speakers. From the first track off of their debut upcoming album
Feral as Fuck
, to the last howl at the album's raucous finale, this quintet makes no apologies for their straight-up, infectious brand of pure rock-n-roll brashness.
Dusting off the
bones and ashes
of defunct Austin hard-rock powerhouse
New Disaster
, songwriting frontman
Natchet Taylor
feverishly began writing the tunes that would come to be
Feral as Fuck
.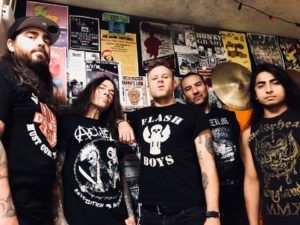 "I wasn't really sure what I wanted to do with these songs but I knew that they had to come out. After New Disaster, I'd been having the time of my life playing in various bands and projects but the need to just get back to my punk-garage-rock roots was overwhelming. This album is the product of that feral and primal need,"
says Taylor.
And like the canine beast he invokes, the songs indeed manifest a wolfish, primal feel. Natchet soon found himself wanting to form a band around his new collection of songs.
"I wanted to get in a pack with the best musicians I knew. Fortunately, I've played with and know some incredible players. I am so lucky to live here in Austin. We've all played in bands together and we've been brothers for such a long time, it was time to just bring it all together like this,"
Taylor gushes.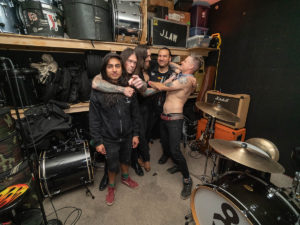 Natchet recruited his old road-dog buddies and former bandmates to form
Disko Wolves
tapping former New Disaster bandmates
Rob Williamson
(drums) and
Abel Idle
(guitars), bassist
Billy "Chainsaw" Dansfiell
(
Gentlemen's Social Club
,
Agony Column
), and rock demigod
Yayo Sanchez
(guitars).
"This lineup is unbelievable. Rob and Billy are thunder. The beastliest rhythm section in town. I've put down my guitar because Abel and Yayo have it more than covered. All I have to do is gyrate around half-nakedly and howl. And writing new stuff is easy, everyone contributes. Look for a lot more Disko Wolves material to come out. Fair warning,"
Taylor says.
In the fall of 2018, Disko Wolves debuted to a packed house at Austin's famed Hole in the Wall club and they haven't slowed down since, bringing their show-stopping, energetic live show wherever they can.
Catch these wolves live! Shows are obviously their thing. Then, while you recover from their performance, look for their debut album,
Feral as Fuck
, to drop soon; and according to Taylor, look for a lot more Disko Wolves rock in the future.
It's the year of the Wolf. Howl!