Nowherebound
Punk rock band in Austin, TX. Think The Pogues, Rancid, and Gaslight Anthem thrown together in a blender and served over ice with a Lone Star chaser. Learn more at the Official Nowherebound Website or at the Nowherebound Facebook Page.
Friends, Hearts, and Muses.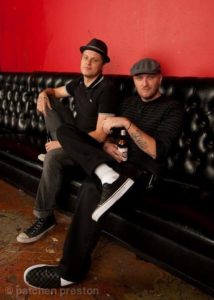 Musical magnets for each other, this six-piece punk rock band ignited in 2010. They sing to you all over the world but always return home to their roots in Austin, Texas. Nowherebound integrates traditional punk with rock n' roll while weaving in threads of gritty country and folk. Though the band now includes bassist Clint Baker, guitarist Dylan Karn, vocalist Christopher Klinck, guitarist and keyboardist Chelsea Barbo, guitarist Natchet Taylor, and drummer Rob Williamson; the project initially started as a duo.
The winter of 2010 was an odd one in Austin. Unusual for the area, ice and snow were the landscape when Natchet and Klinck joined up to make music. The collaboration started as a side project for each musician as Natchet was currently working on a New Disaster album while Klinck was finishing up a Born to Lose record. Nowherebound's debut album, "The Songs of Broken Men", was created that winter in the living room of Natchet's Eastside Austin home. The songs had overtones of loneliness and camaraderie and were fueled by both caffeine and the National Beer of Texas: Lone Star. The album was ultimately released in the spring of 2011 and was introduced to Europe via a last-minute haphazard CD burning session by Klinck and Clint Baker just hours before Klinck departed for the final Born To Lose tour.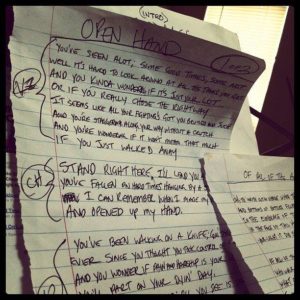 In a hollowed out duplex full of bare walls and undeniable reverb, Nowherebound's ambitious second offering "II" was recorded. Split between two discs ("Highway Gospels" and "Three, Two, One"), this double album remains true to the standards set by their debut release and weaves together heartfelt tunes with vulnerable lyrics, hauntingly sparse melodies with raucous anthemic sway; running the musical gamut with its tales of loss, love, brotherhood and life on the road. The majority of the pieces were written by Klinck with help from Natchet, however, the duo was gifted with a third collaborator: Chelsea Barbo of The Cover Letter. During these sessions, Barbo became a great friend and co-conspirator with her humor, gorgeous enunciation, and dangerously haunting voice. "II" was released in the Spring of 2013.
After a European mini-tour solidified the enthusiasm and stoke for the double album, Klinck and Natchet started full blast into the production of "Mockingbirds". Calling on some old friends, the project was expanded to include a full line-up with drummer Rob Williamson, ex-Born To Lose bassist Chris Hausen and guitarist Trev Wiseman. Adding new members also piled on on new songwriting possibilities and "Mockingbirds" demonstrates that evolution nicely. "Mockingbirds" was released in July 2014. Nowherebound started 2015 off right, landing on the continent of Europe on New Year's Day to promote the "Mockingbirds" vinyl release with their new friends at Ring of Fire Records.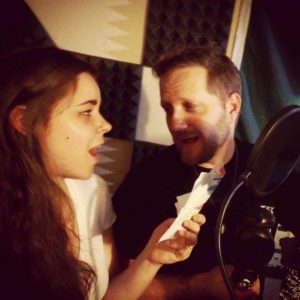 Fresh off of the European tour promoting "Mockingbirds", the boys and girl of Nowherebound immediately hunkered down in Natchet's infamous Bunker Studio in East Austin to start production of their fourth full-length album, "All We Got Is Everything To Lose". Production wrapped up in only a couple of months, but the result is some of the most intricate and thought out material from the band to date. Originally conceptualized as an acoustic record, the album evolved into a "softer-than-Mockingbirds" electric album while still maintaining the brash anthemic punch and Irish-Folk swagger the band is now well-known for. This is absolutely a classic, sing along, raise your fist, Nowherebound album, however, "AWGIETL"stretches out and expands into production and sonic experimentation. During those sessions, Nowherebound also recorded new material for a 12" vinyl split release with German band Rock Shit Hot entitled "Til Death, For Life". The band then embarked on yet another European tour with two new releases on the merch table.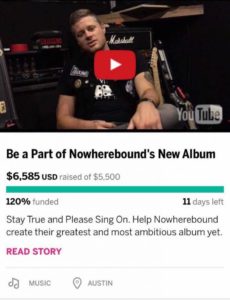 Nowherebound's fifth studio album "Hearts & Arrows" was touted on their IndieGoGo Campaign as being their greatest and most ambitious album to date. After a wildly successful fully fan-funded crowdfunding campaign, a grueling month of recording at Silverjacket Audio, an intense mixing and mastering session, and many late nights and early mornings of art and design; Nowherebound tried to make good on that statement by proudly presenting a 17 song offering for the summer of 2016. Clint Baker, longtime friend and collaborator, and singer of Riddlin' Kids fame, joined on as bassist and also offered wonderful vocal touches. Following on the heels of the previous year's softer offering "All We Got is Everything to Lose", Nowherebound's "Hearts & Arrows" was a much harder, straight-up punk rock record. It was loud, expansive, and huge yet still managed to incorporate the familiar anthemic punk-folk elements that have defined Nowherebound's sound over the last 6 years. Shortly before releasing "Hearts & Arrows", Nowherebound released "Carry On, Caulfield", a collection of acoustic demos and B-sides from the "H&A" writing sessions.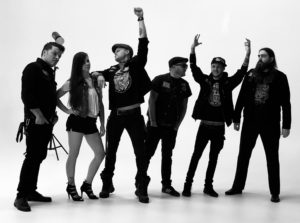 After promoting the Ring of Fire Records release of "Hearts & Arrows" with two European tours in late September of 2016 and June 2017, and after releasing 3 music videos from the album, Nowherebound set about to begin the creation of their sixth studio album and is currently writing and recording at Clint Baker's Heartbreak Studios. Nowherebound is also planning on a US/Canada/European Tour (Summer/Fall 2019). Stay tuned for updates and please sing on.